The Carpenters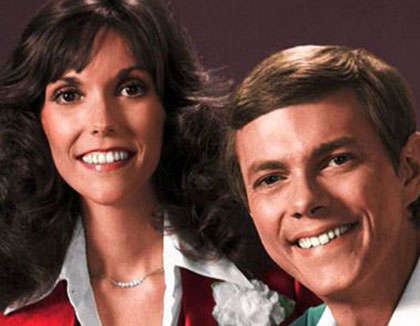 The Carpenters, Karen (1950–1983) and Richard Carpenter (born 1946) produced a unique and distinct soft musical style, combining Karen's contralto vocals with Richard's harmonizing, arranging and composition skills.
They were born in New Haven, Connecticut, and moved to Downey, California, in 1963. Richard took piano lessons as a child, progressing to California State University, Long Beach, while Karen learned the drums. They first performed together as a duo in 1965, achieving worldwide success in the years that followed with the classic hit singles "(They Long to Be) Close to You" and "We've Only Just Begun", quickly became leading sellers in the soft rock, easy listening and adult contemporary music genres.
They toured continually during the 1970s, which put them under increased strain; Richard took a year off in 1979 after he had become addicted to Quaalude, while Karen suffered from anorexia nervosa. Their joint career ended in 1983 with Karen's sudden death from heart failure brought on by complications of anorexia. Extensive news coverage surrounding these circumstances increased public awareness of eating disorders. Their music continues to attract critical acclaim and commercial success. They have sold more than 90 million records worldwide, making them one of the best-selling music artists of all time.
Here they are at the peak of their success in